KLAUDIA - a sauna made by TAPIS.PL company of EXCLUSIVE edition

The characteristic feature of this sauna is a panoramic sauna room joined with a multipurpose shelf made of alder which has a fixed fridge and a practical shelf for drinks. This shelf may be fixed on the right or left side, or as a free-standing piece of furniture.

A distinguishing feature of KLAUDIA sauna is its distinctly shaped decoration with large windows. Huge, glass surfaces create a nice atmosphere.While being inside, you get an impression of the spaciousness and freshness. You will be also impressed by the beautiful pattern-design of the finish of the exclusive benches and backs of the seats, made of a mixture of African abachi and aspen which are set against a background of the wall made of white aspen without knots.

The external part of the sauna room is produced of a mixture of a specially selected kind of alder and cedar. The upper part of KLAUDIA is crowned with a characteristic, protruding ledge with a fixed external lighting.

Its basic equipment contains of:
- a system to colour-therapy controlled with a remote-control
- double- function stove
- the lighting behind the backs of the seats (5 points)
- under-bench internal loudspeaker (2 loudspeakers)
- benches with backs made of abachi and aspen
- Doors with a hidden handle and a magnetic lock
- glassed, illuminated refrigerator (220/12V)
- a salt-iodine lamp
- shelves for towels and wine
- a set of accessories for a sauna
- landings
- external ledge with a lighting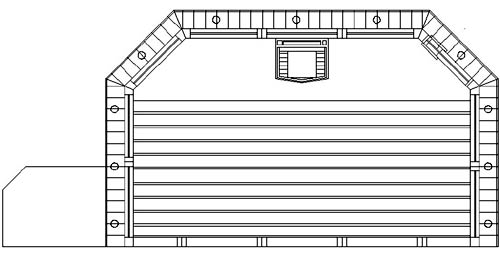 Klaudia - schemat ogólny

Additional options:
- a set to spray aromatic essence
- starry sky - optical fibre
- oxygen bar
- salt screens, more
- deckchairs LAFUMA
- wooden washtub with a landing
- a bucket to overflowing, more
- floor grating made of plastic
- Body-Reflex a bed of anatomical shape
- Water Sprinkler
- massage brushes
COLOUR THERAPY
Colour therapy has been known and used even many centuries ago in ancient civilizations. For ages, in different cultures the light was a symbol of: goodness, purity, spirituality,divinity. On the other hand the darkness meant evil. People instinctively knew that the sunlight influences their health and mood.

The light becomes a colour depending on the length of the wave. This knowledge was used in order to regain the balance and harmony in human body.

The colour may change our surrounding, and also improve our productivity. It can make that our social life will be enriched and state of health improved. It can be used to deepen our consciousness and strengthen the height and wealth of yourself. Only as a mankind we are able to understand the language and its message.

Colour therapy teaches us how to prevent and heal the constitutional and mental disorder by means of colours. Generally, the colours which are commonly used are those assigned to the elements existing in the natural environment of a human being. Their vibrations are absorbed by the atmosphere, eyes and skin.

The colour, while influencing our psyche, may bring about stronger or weaker physical reactions and also contribute to soothing of the symptoms and health troubles.

Healing by means of colours is a regaining and consolidating of the appropriate proportions between the colours which should be kept in a constitution.



The description of the basic colours and their symbolism is presented below: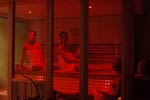 Red - fire. It is the most stimulating and energizing colour associated with activeness and warmth. It strengthens our will and courage. It stimulates our appetite, blood circulation and also and helps to cure anaemia and heal wounds. Influencing our psyche, red colour helps to defeat depression and melancholy. This is the most stimulating colour and it is considered to be the colour of love.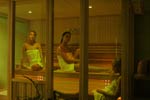 Yellow - element of earth. It heals the illnesses of respiratory system, cough, sore throat, colds and mild flu. It has a favourable influence on the whole digestion system and also brain as it stimulates it intellectually.Yellow colour improves the condition of our skin, making it easier for it to breathe. This colour awakes and and inspires., helps to think more creatively and to control the emotions. It is advisable in states of being in a weak condition- it encourages the optimism and is the colour of life. It is inadvisable for nervous people.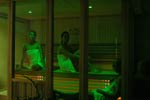 Green - it is connected with the nature and trees. It's a colour of hope, harmony, and what is the closest for nature and environment. It introduces the balance into our constitution and rebuilds the cells. Green colour helps to melt all blood clots. It lowers blood pressure, it helps to counteract tumours, stomach ulcers or migraine.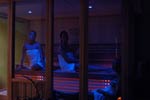 Blue - water. It's a cooling colour which has strong calming qualities, it helps to overcome insomnia. It soothes headaches and that is why the this colour is used in the therapy for rheumatism treatment, injuries and sprains. Blue colour usually occurs in cold schemes, that's why it evokes a feeling of slight chill. It also causes the activating of intracellular processes, effectively influences connective tissue, mucous membrane, lymph system. By means of blue colour it is possible to cure jaundice, a stomach upset, diarrhoea, vomiting, ulcerative colitis.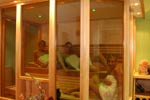 White - metal, it harmonizes and calms down, keeping the balance in in a human body. It inspires it to fight with an illness and activates the organism's immunity to infection.It is the colour which is responsible for lungs and the large intestine.
The descriptions of the colours not connected with the elements however evoking certain states and emotions: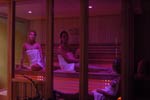 Purple - This colour works especially favourably for the nervous system and the brain. It makes that it is easier for us to look deep down into ourselves, people who like this colour appreciate the silence, harmony, agreement and love, however it strengthens the feeling of sadness and helplessness of people who tend to have the blues. Some people associate it with something mysterious, mystic and also with the spirituality. It is applied in curing serious infectious diseases, rheumatism and epilepsy.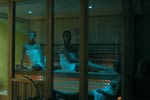 Indygo - It has strength and huge power, It is connected with the intuition and extrasensory thinking, the colour of very soulful people. Indigo: transforms, explains, what unknown; is a spiritual guide, it gives strength and ability to move, encourages to analyze one's life; it's a colour of justice and peace. The field of activity: bone marrow, pituitary gland, eyes, nose, sinuses, ears.

Click on the chosen picture to enlarge it